K trial hot topic at GRDC Update
April 9, 2018
APAL managing director Ryan Walker presented his insights on potassium deficiency in local soils at the GRDC Grains Research Update in Geraldton, Western Australia, earlier this year.
While traditional methods have provided valuable information on some soil types, there is growing concern that in some circumstances these methods are offering questionable recommendations for the economic use of K fertilisers.
An APAL trial, co-funded by Summit Fertilisers, is investigating the performance of several potassium methods (old and new) against crop response to applied K across a few years. This year's trial will be planted to lupins, with the trial potentially demonstrating the leaching of K through the soil. This data will be invaluable to fertilizer decisions.
The aim of the trial in the first year was to manipulate potassium levels across 8 treatments and 6 replicates.
This allowed us to create a potassium rate response site in which we could evaluate fertilser responses to potassium.
How does the trial work?
In the example below using exchangeable potassium as an example we have created soil levels ranging from 30 ppm (first point, 0 K treatment) to 180 ppm across the 8 treatments.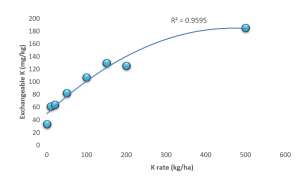 The yield in the first year declined after the 50 Kg/ha potassium application due to the high chloride load of the fertiliser.
If sulphate of potash was used we would have to balance sulfur with gypsum. The decision was made to not do this as this introduced another variable in the application of calcium.
In the light textured soil, we are confident the chloride will move through the system for this next season and we will be able to review potassium responses across the varying soil levels of potassium.
There were responses to potassium up to 50 Kg/ha in wheat in 2017.
What is the next step?
The crop planted in 2018 will be lupins.
One of the major implications of this project will be the ability to track potassium leaching through the profile.
Samples were taken in 10cm increments down to 50cm. Early results indicate that in this light textured soil we need to treat potassium like nitrogen and sulfur.
This is as movement of potassium was observed down to 45cm in the high treatments, with only 175mm of rain.
Soil testing, January 18. 0-10cm comparison. 2 cores per plot, 6 treatment reps, every plot sampled and analysed in 10cm increments to 50cm.
This is after incorporation sampling was done in-season (July) in the 0-10cm.
The below graph shows the difference in 0-10 cm potassium levels for Colwell potassium sampling the following January, which was a reduction from 225 ppm to approx. 120 ppm.
Reviewing the high treatment (maroon points) we can see potassium movement down to 45cm.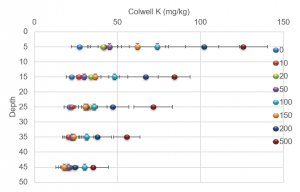 CLICK HERE to view the full presentation as a PowerPoint show
OR click here to download a PDF of the presentation
We will update you on the progress of this trial again later in the year.